Communications and Operations


User-friendly, multi-lingual (15 language), informative interface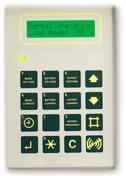 The Silcon offers a powerful, informative user interface. The unit provides audible alarms for 38 different monitored functions.
Through the APC Silcon display panel, you can quickly and easily access key measurements. The information covers utility power, battery status, output volume, and percent of capacity. When an alarm condition occurs, an audible alarm sounds, the red alarm light goes on, and the display shows the cause of the alarm. The Silcon monitors 38 separate functional values, each of which can activate an alarm.
The Silcon also maintains a time-stamped log of all important power and UPS events. The log is accessible from the keypad for easy diagnostics.


Software integrates, monitors and manages your Silcon

Extended power outages can sometimes outlast your UPS battery power. If no one is there to shut your system down, you may end up with corrupted or lost data. Silcon offers unattended, safe, automatic shutdown as a standard part of your power protection solution. Two built-in RS232 ports and a relay port make connecting the unit to a monitoring station a breeze.

Multiple System Shutdown

APC provides a reliable, centralized power protection solution that is easy to install and manage. When an APC UPS is protecting multiple computer systems, this product enables the UPS to communicate reliably with all connected servers to provide graceful, unattended shutdown during an extended power outage.

Web/SNMP Management Card (Ships free with all Silcon units)

UPS network interface card for network administrators that provides standards-based management of UPSs in rack, computer room, and datacenter environments. APC Web/SNMP Management Card is the only web based UPS Management product to provide full management of UPSs via multiple open standards like Telnet, HTTP, and SNMP. It is a full-featured, robust power management product that is certified for and tightly integrated with Enterprise Management products. Through the Web/SNMP Management Card, you can monitor and configure their APC UPSs to shut down and reboot your computer systems.

Triple Chassis (Ships free with all Silcon units)

Connect the cable of this 1U 19" rack-mountable Expansion Chassis to the RS-232 serial port of the UPS. Then add any three of the following management peripherals to the Expansion Chassis to improve your UPS management system: UPS Interface Expander Card, Environmental Monitoring Card, Out-of-Band Management Card, Relay I/O Card, or Web/SNMP Management Card.

next »